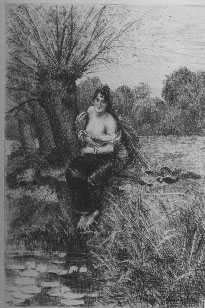 She Sat There Among the River Reeds
After Theocritus
Barefoot, bare brows, with wind and waters bland
Kissed, she sat there among the river reeds;
Dreaming her some princess from fairyland,
I murmured, "Wilt thou wander trhough the meads?"
She looked at me with that supreme regard
Wherewith bright beauty makes its conqueror quake;
I murmured, "'T is Love's month; across the sward
To the deep woods wilt thou our way we take?"
Upon the happy grass she dried her feet,
Then looked my heart through yet a second time,--
Growing the while, for sportive, pensive-sweet.
Oh, how the wood birds rang their golden chime!
How amorously on banks warm wavelets purl!
Through flowering reeds, white brow and bosom bare,
Coming towards me I saw the wild, sweet girl,
Her hair in her eyes, and laughing through her hair.
From Contemplations