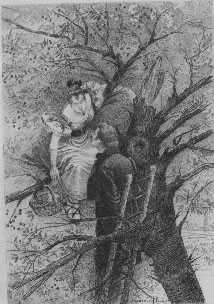 The Fruit of Error
We roved the orchard
To forage 'mong fruit,
And her arms were shown naked;
Like marble of Paros,
They gleamed white and rosy,
Whilst winds played the lute,
And light-loving was slaked
By Amor's own Pharos!
The berries her fingers
Soon ruddled rich red,
Till they turned tapers lurid,
Fit beacons for Hero!
And purple juice flushes
Enhalo'd her head
Till I frowned, fiercely furied,
Like flambeau of Nero!
She sang between mouthfuls--
Most teasingly wild--
Oh! too well I'd have shook her!
She was offering a berry--
(Her arms held the branches)
But happ'ning to smile,
Down it dropp'd--I mistook her,
Ands kissed the lip-cherry.
From Contemplations, Book I, July, 183_